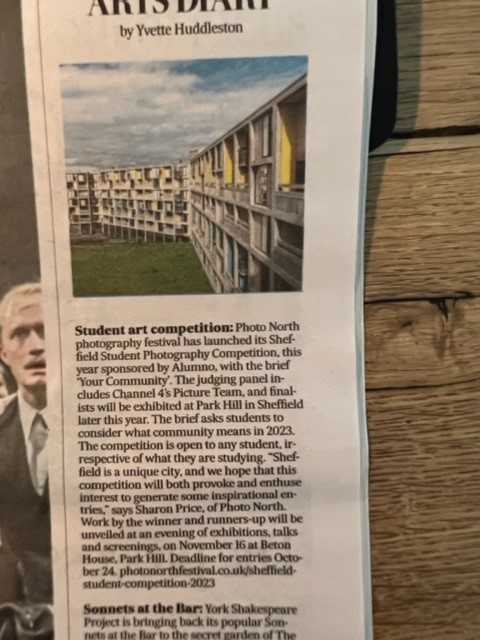 The student photography competition sponsored by Alumno and launched by Photo North has been featured in this weekends Yorkshire Post Arts Diary. The brief to students is "Your Community'. The esteemed judging panel include Channel 4's Picture Team, and finalists will be displayed at Beton House, Park Hill from November this year.
Photo North asked students to consider, what does community mean in 2023?  This competition is to share through photography, a personal interpretation of community.
The project may want to explore a place of worship or employment; or focus on sexuality, politics, sport, a tradition, or other interest. Or explore what can divide communities in a particular village, town or city, focus on what causes tension and potential conflict.
Peter Dench, award winning photojournalist and Photo North Curator says: "Photography connects us, no matter the background, through photography Photo North aim to provide people with an advanced understanding of the social issues we are all facing today, to engage debate and hopefully inspire".
This is a fantastic opportunity for all students to embark on this competition as a summer project, it is open to any student, irrespective of what they are studying, they can simply be an avid photographer wishing to enhance their skills.
The finalist's celebration event will be exciting, with a full evening of exhibitions, talks & screenings, on November 16th at Beton House, Park Hill.
https://www.photonorthfestival.co.uk/sheffield-student-competition-2023