This month's behind the scenes features Iain Carson talk about Powis Place in Aberdeen and his inspiration behind the design of the development.
https://alumnogroup.com/projects/powis-place-aberdeen/
'Powis Place lies at a significant junction on one of the major approaches into Aberdeen, sandwiched between more established residential areas to the East and West and the suburban and city centre areas to North and South. The vacant or under-used sites at this crossroads presented a natural redevelopment opportunity and Alumno initially approached the site having high aspirations to take a leading role in its regeneration.
It has been a challenging site to develop, with significant level changes present and space and access being severely limited by busy roads on three sides. Our shared desire was to consolidate a fragmented urban fabric and initiate more intensive patterns of use for the area.
We sought early community involvement during the planning stages of the project, with a public consultation event and a presentation to George Street Community Council. Some key changes which were adopted after this period included an overall reduction in the height and mass of the proposed building, which addressed local residents concerns about density; an increase in the quality of the public realm and the creation of roof terraces to maximize the proposed amenity space. We also received influential feedback from statutory consultees, in particular from Roads Projects and Waste Services who canvassed for the creation of a large car park and refuse store space. We took these suggestions on board and accomplished them by raising the courtyard to the first floor level.
The six-storey building now accommodates nearly 200 students in a mixture of en-suite rooms, in shared apartments, and a selection of single studios. The architecture of the building is robust, depending largely on bold sculptural form and proportion, executed with crisp but straightforward details to achieve its intended character. It is built with a limited palette of inexpensive materials, selected for their visually animated texture and tone, while the steel frame structure allows for future adaptation for different uses.
We have endeavoured to achieve a simple, rational organisation of good quality spatial sequences both inside and outside the building. As far as possible we sought to avoid internal corridors in favour of more generous, day-lit lobby spaces that encourage interaction. By locating the main communal areas, such as the common room and reception, at street level we sought to establish a lively public presence with a fluid, visual and physical relationship with the street, as well as high quality, well appointed, carefully considered interior design and Artwork which also reflects the surrounding community. Successful, comfortable common areas, where students want to spend time, study and interact, are vital to the success of communal living on this scale.
The internal landscape courtyard provides vertical circulation – a secure and sheltered amenity at the heart of the building, away from the traffic noise of surrounding streets. It was envisaged and designed as a space for coming and going, for occasional pause or conversation, and as an overspill from internal amenity areas on brighter days. Its 3-dimensional scale and character is reminiscent of many of the courtyards and lanes found in the City of London.
This landscaping adds significantly to its visual impact, both for ground floor users and for those overlooking it from the surrounding accommodation. We sought a degree of permeability through it, with a main entrance from Powis Place and a secondary entrance from Canal Road. Beneath it are parking spaces for 70 bicycles, including 8 motorcycle spaces, 20 cars and a fully accessible disability space. Long term cycle storage has also been provided.
As the courtyard is in shaded light for part of each day, we have supplemented it by the creation of a communal roof terrace, at fifth floor level. This space is in direct sunlight for most of the day and benefits from an open aspect over the green corridor of the branch railway and the city beyond. An existing row of lime trees along the boundary on the adjacent site provides significant amenity for the neighbouring community centre while also forming a green backdrop of foliage for our development. Surface lighting is also a key part of the landscape design, used both to illuminate space and highlight features.
We met the regulatory carbon reduction requirements by using a combination of gas fired boilers and gas fires CHP. A building management system has been installed to control and monitor all building services systems, with all accommodation areas having local heating controls – easily monitored by independent metering. We firmly believe that the site realises a high level of architectural ambition and is forming a very positive contribution to the urban fabric of Aberdeen'.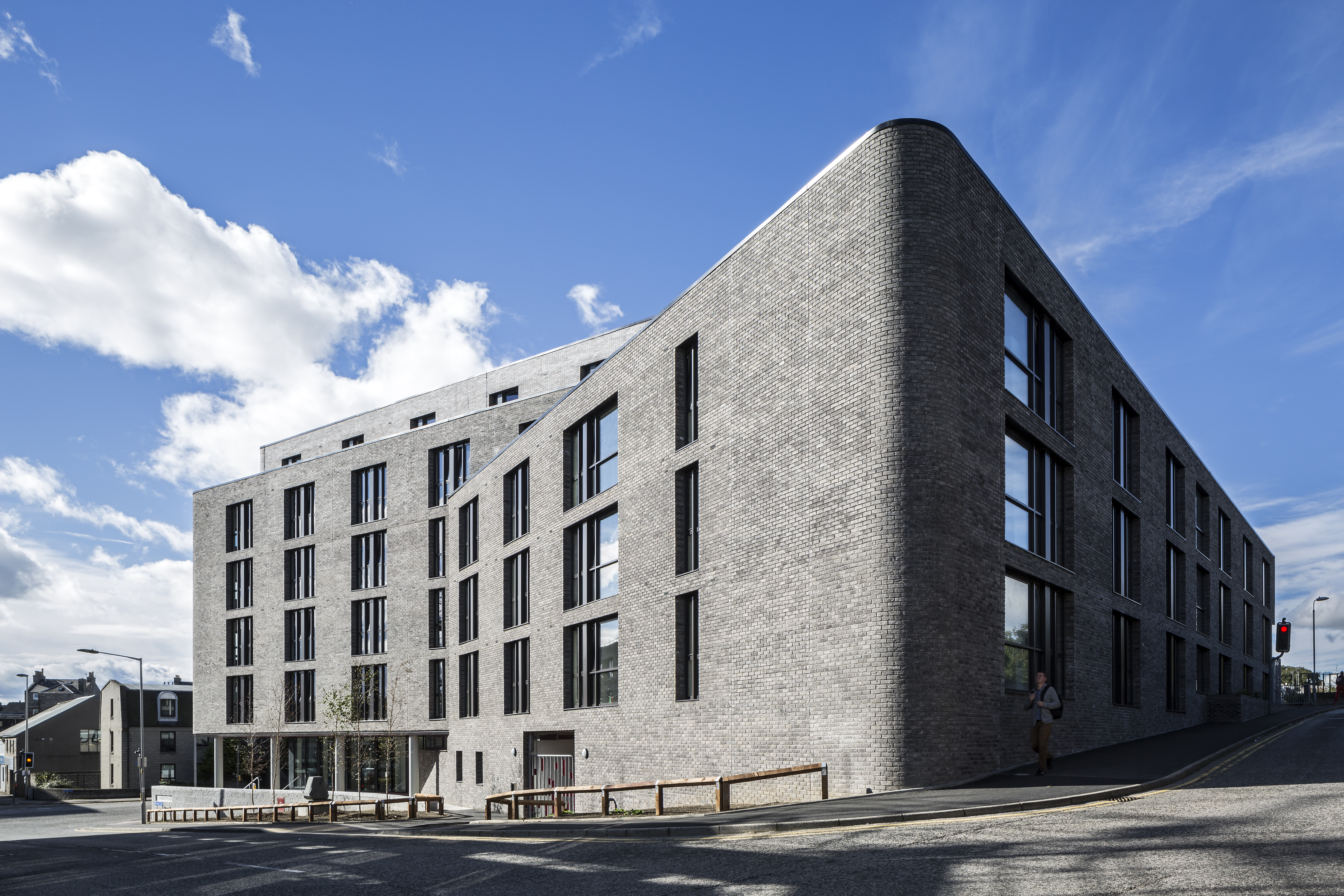 Iain Carson spoke with Martin Gray