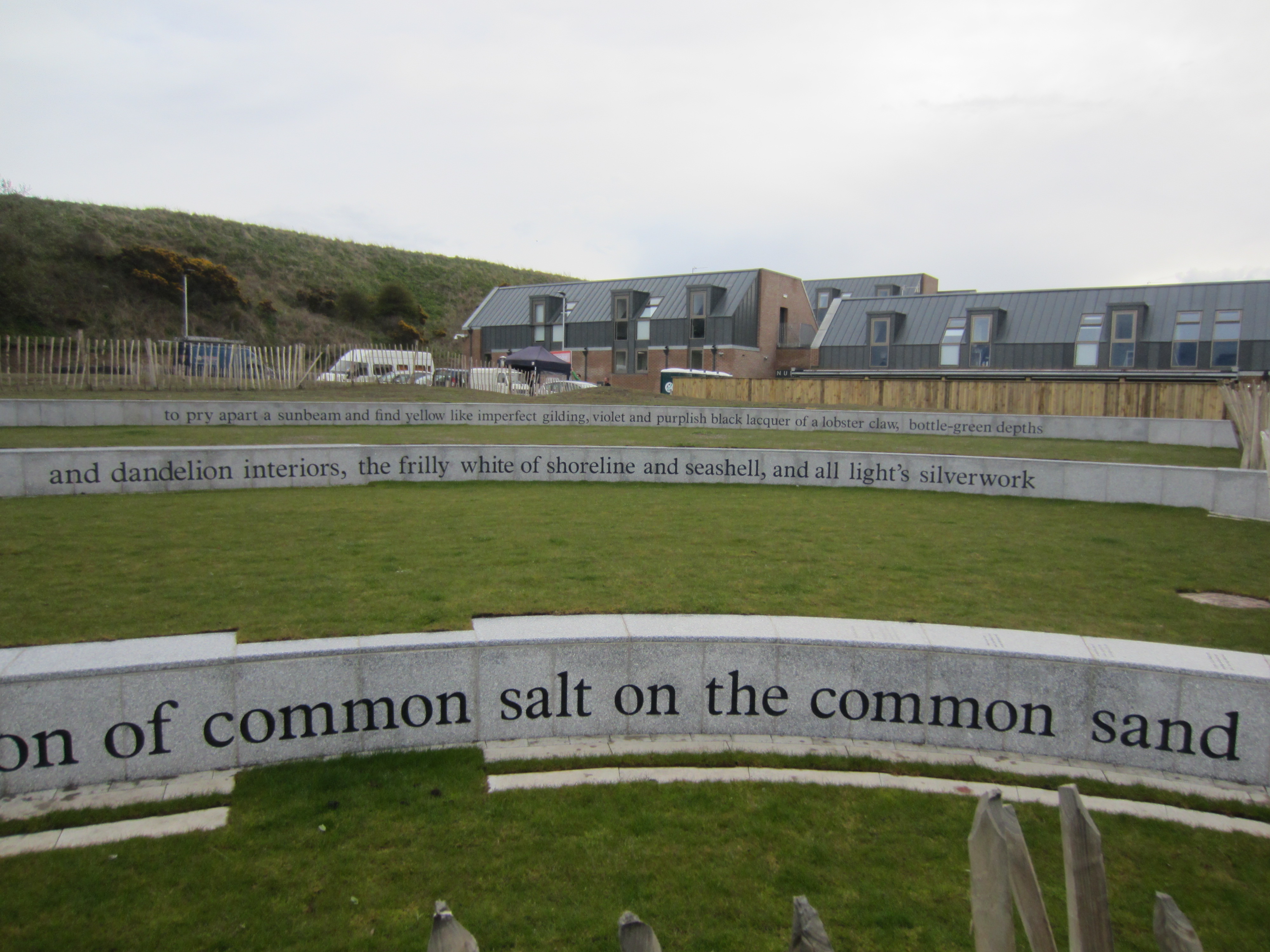 Jacob Polley was recently announced as the winner of the TS Eliot prize for poetry for his collection Jackself (Read the Guardian's review of Jackself here). In 2016 he was commissioned by Alumno Developments to compose the poem "East Sands, Salt Prints", which was used as part of the art installation overlooking the East Sands in St Andrews, Fife. We caught up with Jacob to find out about his recent award and how he felt about the poem he created for us.
Alumno: Firstly, congratulations on your win. What was it like to be given such a lauded prize?
Jacob Polley: Astonishing and thrilling. I didn't expect to win, as the 10-strong shortlist was so strong, and by all accounts I nearly keeled over when it was announced.
A: Although the awards ceremony is still fresh in your mind, what impact has the win had on your life so far?
JP: That's a difficult question, as I imagine it's like most extraordinary events: they happen, and everything has changed, but all is also much the same. I've had quite a few messages to reply to, which has been an immediate impact, but I've been simply enjoying being home again and thinking about doing some new writing, which is always good…
A: Extracts of your poem "East Sands, Salt Prints" were engraved in granite as part of an art installation overlooking the East Sands and the Fife Coastal Path as part of a project commissioned by Alumno. How did you come to be involved?
JP: The whole poem was engraved along the topmost slabs of a granite terrace, as well as a shorter version – in whacking great letters – on the vertical elevations. I was approached directly to write something and to think about how it might best be shown.
A: The poem was inspired by the work of the pioneers of early photography associated with St Andrews. How involved were you in the visual aspect of the installation?
JP: There's a limit to how involved I could be in what was a large-scale building project, my part of which was relatively small. But I could make decisions about the things that I'm always interested in, which are nerdy things like font and how the text might happen for whoever saw it, either by chance as they were walking past, or if they lived with it for a while, close up.
A: What does it mean to you to have your work presented in such a physical and public way?
JP: Well, I'm someone whose work exists on paper or on a screen, so to have it exist somewhere in stone is conceptually very interesting. I like to imagine people sitting on the poem, looking out to sea and running their fingers over the letters. This is a very different way of imagining how people might experience my work, and all of a sudden weather and time also become elements that have a direct physical impact on what exists at the East Sands: rain filling the full stops, the whole thing speckled with lichen.
A: Can you describe the cultural/emotional value this project might add to its immediate environment?
JP: No, not really. And that's another interesting thing, I suppose, as it's not for me to describe. The work isn't really made with this kind of question in mind, but with a hope that someone passes it or lives with it and finds a little of it speaking to them. But that hasn't got much to do with me, now that the piece is in place.
A: Have you worked in this way (ie commissioned to provide something public-facing) before this project? Do you have any plans for something similar in the future?
JP: This has been my biggest public project to date. I don't have any immediate plans for anything similar, though I'm still very interested in the relative permanency of work like this, a permanency a writer like me actually finds quite unsettling – the idea that words are committed to stone, that they might be committed and regretted, or committed with a typo. This didn't happen at the East Sands, I hasten to add! But the contradictions between a poem, which I always think of as something that exists mostly on the air, and its incising in stone continue to be intriguing. These contradictions are also inherent in the work of the early photographers, who were experimenting with the fixing of a moment in time, but tended to choose as their subjects geological features of the coastline or the ancient ruins of St Andrews.