It is the wonderful time of year when all the creativity in the art schools around the country is celebrated with the students degree shows. A particular highlight of the degree show season is the awarding of the Alumno / SPACE studios / Goldmsiths University of London bursary. Out of many applications one graduate receives one years rent free studio space in the artists studios Alumno developed and which are operated by SPACE in the former Southwark Town Hall Building which also houses Goldsmiths students.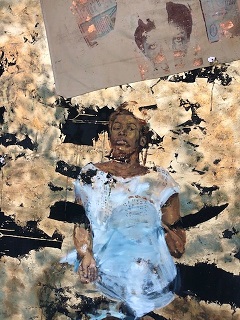 Persilia Caton of SPACE has the difficult task of choosing the ultimate winner out of the talented and driven artists Goldsmiths has nurtured over the years. Rebecca Dean of Alumno was very pleased to meet with the winner at the degree show last week and admire her work. The winner
Emma Prempeh
was awarded the bursary for her beautiful and haunting paintings of her family and herself. Not only are they atmospheric paintings but she also uses mixed media to create unusual artworks including gold, textiles and video. Emma was a very worthy winner and has also been chosen to be included in the
Bloomberg New Contemporaries
exhibitions later this year. We are sure Emma will use the studio space to create even more exciting artworks in the future. Many congratulations again !