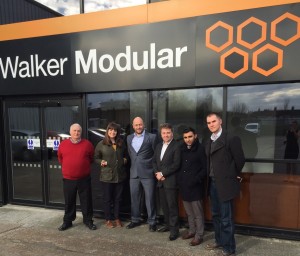 On Wednesday 25th February, myself, Ron and Aamir went to meet Darren Fawcett of Walker Modular at their factory in Hull, accompanied by Iain from Kier Construction and Richard from Derwent.
Alumno signed a framework agreement with Walker in the summer of 2014 which commits us to using their products across all our schemes for two years.
Walker Modular are the UK market leader in pod manufacturing and have over 35 years experience supplying a number of different industries including student housing, healthcare and even the military. The Marine Grade Composite pod in the Alumno framework provides a single one-piece structure, which was originally deigned for racing yachts, F1 cars and military aircraft.
The visit was arranged to discuss a number of orders Alumno are about to place, choosing colour schemes and agreeing pod numbers, along with agreeing service and maintenance arrangements. We were also able to see the pod manufacturing process in action and some of our St Andrews pods ready to be put on the lorry to Scotland.
Thanks to Darren for organising our trip, a delicious lunch and even a sunny day in Hull!
Emma